Ryan Ramdeo's page
Ryan Ramdeo's Page
Hello Everyone,
My name is Ryan Ramdeo and this is a wiki page that I am working on. I got my bachelors in English at Queens College in 2019 and I'm currently starting the MLIS program this semester. To be honest, I was initially going to college to become an English teacher. However, I decided to not pursue that any further, feeling the profession wasn't right for me. However, I still wanted to obtain a profession where I could help people and after talking to a friend who graduated from this program along with doing my own research, I felt that this profession would be right for me.
Now, due to how 2020 has been, I have been trying to keep myself busy when I am not doing schoolwork. Some of my hobbies include:
Writing (Enjoy writing screenplays and I'm working on one at the moment)
Reading (I just enjoy reading for fun. My favorite book is Patricia Park's Re Jane)
Exercising (Currently learning intermediate footwork while jumping rope)
Video Games (Fan of the Fallout series and fighting games)
Photography (Like taking pictures of nature)
Building plastic models (All the models are based around Gundam, an anime franchise based around giant robots)
For a website that I just found to help learn about photography, click here
To go back to the class home page, click here
Fun fact about me. One of my favorite movies ever is Howl's Moving Castle. I loved it as a kid and I still love it to this day. So, here's a picture of Howl's home.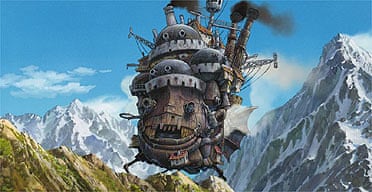 I'm Kristina, a fellow student in your class. I love this movie too! Check out my page.